---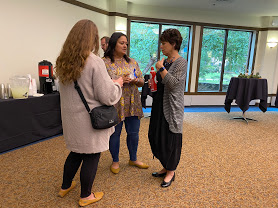 MISHAWAKA- Barb Bellefeuille, Ed.D., began serving as the interim president of Bethel University in June 2021 and was officially named the eighth president and first female president in March 2022. On Saturday, Sept. 10, President Bellefeuille was officially inaugurated.
During the ceremony, several people shared encouraging words as well as challenges for the new president. Faculty, students, and alumni were all represented as well as other people and organizations connected to Bethel University.
Each of the speakers communicated strong support for President Bellefeuille and optimism regarding the future of Bethel University. Bellefeuille invited Bob Laurent, Ph. D., a former professor at the University, to be the main speaker during the ceremony.
The event ended with a speech from President Bellefeuille and prayer over her with a hymn led by Shawn Holtgren.
"Faithfulness to our purpose, our people and our place: this is my commitment," Bellefeuille said.
Print