---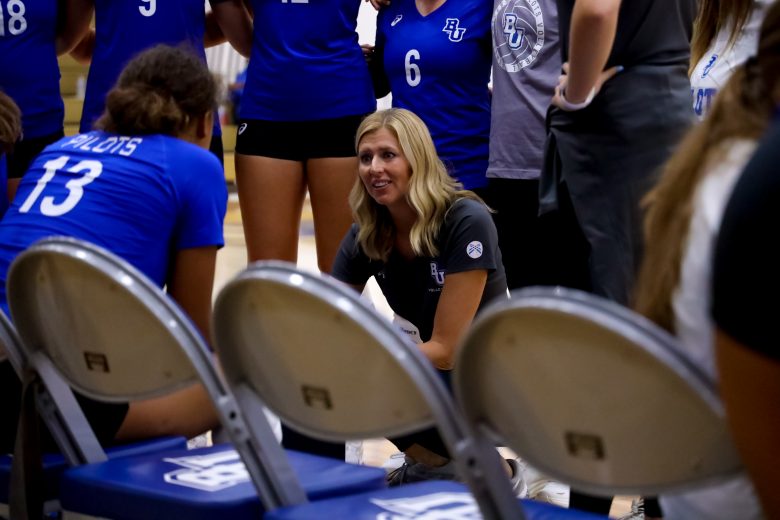 MISHAWAKA—Before Katie Weiss was the head coach of the Bethel Pilots, she was a volleyball player for Bethel in the 1990s. She was named an NAIA All-American in 1998 and was inducted into the Dr. Albert J. Beutler Athletic Hall of Fame in 2012. Then, in 2017, Katie returned to Bethel to be the head volleyball coach, and after five seasons coaching the Pilots, she achieved the one-hundred-win mark.
"I felt and feel blessed to be here at Bethel University working with this incredible team," Weiss said. "It's been a long road to get it done and I'm thankful for all the athletes who have been on the journey with me for the last 5 years."
Since becoming the head coach of the Pilots, Weiss's list of accomplishments is long, but her biggest accomplishment according to her is being able to build relationships with her players and see the difference that she is making in their lives. She also enjoys being able share God's word with them and strives to demonstrate the school's motto of "Christ at the Helm."
"It took me three full years to build the team and culture into what I hoped it could be," Weiss said. "It was also my first college head-coaching job, and it has taken time to develop and know what kind of coach I am and want to be. It's been an amazing journey and I wouldn't trade the first three years away, that's how I learned and where I grew the most as a coach."
For more information on the Bethel Women's Volleyball team visit bupilots.com.
Print