---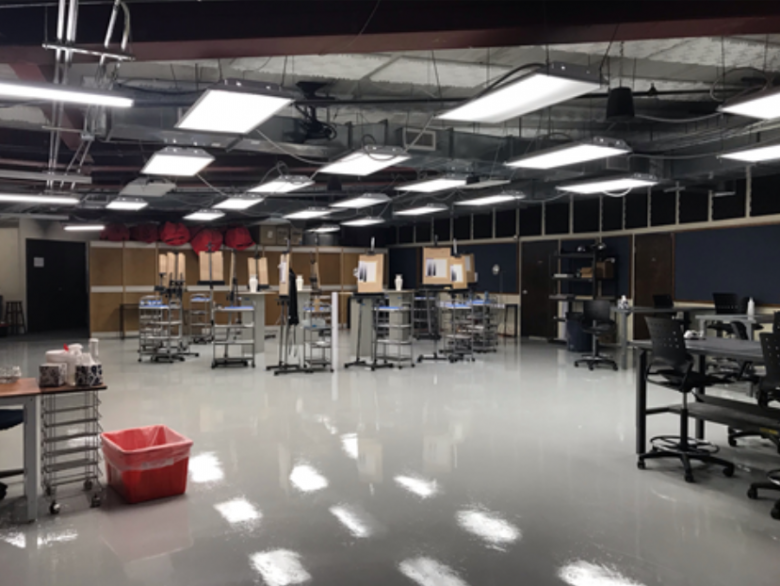 MISHAWAKA--When the fall semester ended, the Fine Arts Department began their relocation into the basement of Everest-Rhorer. This was a significant move that required collaboration with the music and theatre departments.
The large art room is now located in FA 150, which was previously used as a rehearsal space for dance and theatre. With this space now occupied, the house that used to be the art building now serves as a dance studio and rehearsal space.
The Mac Lab is now located in FA 113 in the basement of Everest-Rohrer, and its previous location in the basement of the art building is now being used as storage for the Physical Plant.
Barb Bellefuille, Don Hunter, Chad Jay, and Joe Zappia worked together to make better use of space by incorporating offices and art rooms into the space once used for theatre, music and dance.
Plenty of planning was required to ensure the relocation had as little roadblocks as possible. Becky Branch, administrative assistant to the Art Department, said this team of four worked and communicated closely to ensure the move went well.
"We made a lot of lists and did a lot of walkthroughs so that, once we started the process, we pretty much knew where things were going and the order that we needed to move things around to make it as smooth as possible," Branch said.
So far, the Art Department has heard only positive feedback from students, faculty and staff.
Kari Black, professor of painting and ceramics, said she is enjoying the new arrangement.
"It's wonderful," Black said. "There is space for everyone to be here, and I'm thrilled to be in it."
The space now used as the multimedia art classroom is larger than its previous room in the Art Building. This aids in the need to socially distance while the threat of COVID-19 remains a reality. It will also provide more opportunities for collaborations and bigger projects for art and theatre students.
Print