---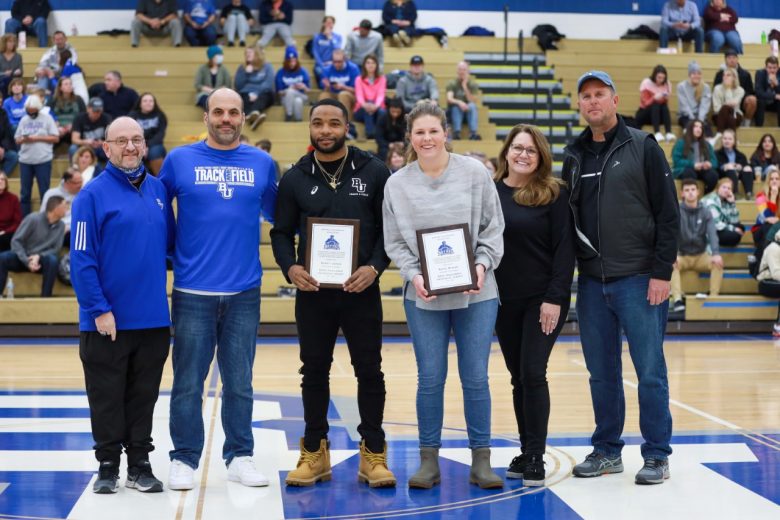 MISHAWAKA—On Tuesday, Feb. 1, the Bethel Athletic Department announced the 2022 Paulsen Award winners. The Paulsen award is a memorial award that is presented to one man and one woman each year in the athletic department. It is in honor of former Bethel student-athlete Ron Paulsen. Paulsen was killed in an automobile accident in 1972. While at Bethel, Paulsen participated in men's soccer and men's basketball. The award is given to athletes that show athletic involvement, character, leadership and involvement in social and academic programs. This year's winners were Corey Jones of track and field and Katie Blauw of women's golf.
"The award means a lot," said Bethel Athletic Director, Tony Natali. "It's the most highly-esteemed award in the department, just because it's nominated by the coaches, it's voted on by the coaches. It really shows a great character type award among the whole department."
Corey Jones is a senior from Moore's Island, Bahamas. He is currently double majoring in engineering and management and is a sprinter on the Men's Track and Field team. He is a two-time Crossroads League event champion, a four-time NCCAA event champion and a four-time NAIA qualifier. He is also a residential assistant on campus. Other men's nominees included Cross Country's Trevor Miller and Bowling's Myles Moser.
"He has been through a lot since he's been here," Natali said. "I mean hurricanes at home, family members that have died. I mean he has been through quite a bit. But the fact that he's persevered and has done as well as he has in every aspect--I mean he's been an All-American in track, and his academics are good. He has a tremendous, soft personality. He's a very hard-working young man, but also understands the priorities in life that he needs to be successful."
Katie Blauw is a junior from Caledonia, Mich. She is currently majoring in business management and is a part of the Women's Golf team. She helped the Women's Golf team to their first ever national championship this past October as they won the NCCAA National Tournament. Other women's nominees include Cross Country's Megan Cooper, Track and Field's Kayla Kunkel, Women's Volleyball's Maddy Payne and Softball's Quinn Slattman.
"She is a phenomenal young lady in every way," Natali said. "She's definitely the leader of that team in many ways. She has a great personality, very upbeat, and does very well in every aspect of life here at Bethel. I mean she's Christ-centered, she works hard on the course and represents herself well academically."
Each award winner is given a plaque, a financial award and will have their name engraved on the trophy that is kept on display in the Weikamp Athletic Center. For more information on Bethel's athletic program's visit www.bupilots.com.
Print