---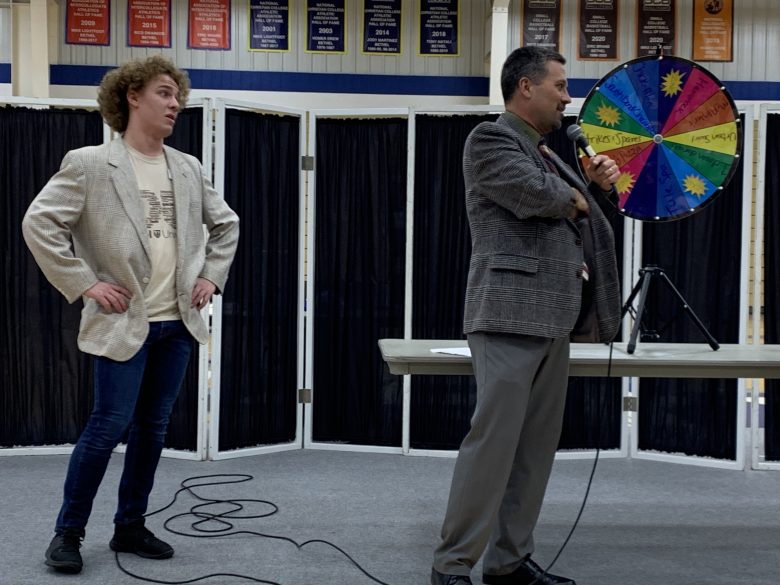 MISHAWAKA- Let's Make a Deal is an event hosted and planned by Bethel University's Admissions Department as a part of Admitted Student Day. It was held on Thursday, March 17 at 8:30 p.m.. It is an event that mimics the game show "Let's Make a Deal". Bethel students and students who have been admitted to the university for the following year gathered into Gates Gymnasium to cheer and have the opportunity to win prizes of many kinds.
Keith Koteskey, Assistant Professor of Christian Ministries, was the host for the event. Koteskey said, "I guess I was asked to host because they know I'm willing to be goofy and silly."
Koteskey is well-known on campus for his good sense of humor and love of donuts, which featured heavily as prizes this year.
Students came to the event either in Bethel gear or dressed in costumes, as is a part of the game show's gimmick. Koteskey himself came dressed as the host of the show, in what he called a "tacky" sportscoat.
Students participated in raffles, games, and more for the opportunity to win prizes from local businesses and Bethel. Some of these prizes were coupons to fast food restaurants; a dozen donuts from Dunkin' Donuts; Bethel University mugs; and many gift cards to places in the South Bend and Mishawaka area.
This year, newcomer to the Admissions Staff, and recent graduate of the university, Skyler French also played a role alongside Koteskey, as his over-excited side-kick. French made many students laugh throughout the night with his exaggerated reactions and gestures.
Kimberly Miller, Skyler French, and many more of the Admissions staff at Bethel planned this event and organized the prizes. This event was an opportunity for admitted students to see a part of campus life and have a good time.
Print