---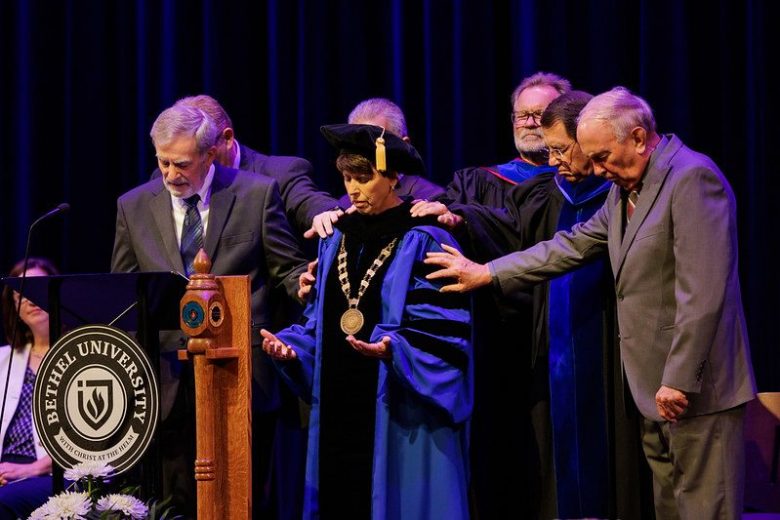 MISHAWAKA – Barb Bellefeuille, Ed.D., began serving as interim president of Bethel University on June 1, 2021, and she was officially named President on March 10, 2022. Her inauguration took place on Sept. 10 of this semester, allowing students, faculty, staff and members of the community to participate in the landmark event.
According to President Bellefeuille, her decision to act as interim president happened quickly, much more quickly than her choice to accept the official role of president. During her time as the interim president, Bellefeuille fulfilled presidential obligations with a more short-term focus. After almost a year of meetings and interviews, Bellefeuille was officially named the President of Bethel University.
Bellefeuille said that because the official announcement came so close to the end of the school year, the university made the decision to wait until the fall semester to host the inauguration. The inauguration ceremony was a celebration of Bellefeuille's role as president of the university. To Bellefeuille, the most meaningful part of the celebration was the support from so many members of both the Bethel community and the Michiana community.
Bellefeuille said her vision for the university has only increased since stepping into the role of president. She plans to continue her focus on Bethel's purpose and its people. Her biggest goal for the 2022-23 school year is to reengage with the school's purpose of strong academics and spiritual foundation.
According to Bellefeuille, she has been overwhelmed by the kindness she has received during this process. She said she feels as though she is still in the "honeymoon phase" of this position.
"I get energized by the students," Bellefeuille said. "I just love being with them."
Print