---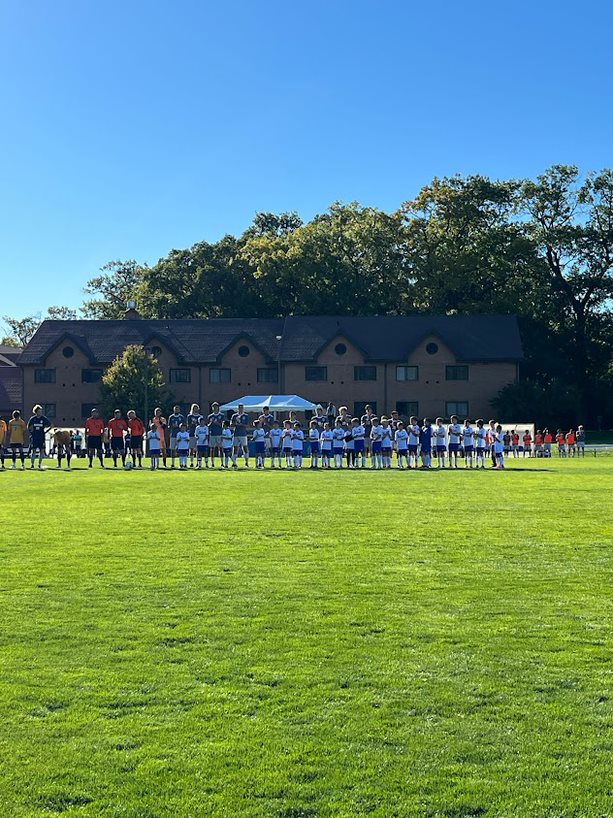 MISHAWAKA—Bethel Athletics is driven by four main goals: spiritual formation, athletic development, servant leadership and academic excellence. This year's men's soccer program is no different, and during the backend of their season they are focusing on servant leadership.
"It's a part of our mission, our purpose, our identity as a school and as a program, as well as who I am as a person," Head Coach Thiago Pinto said. "It's about really impacting lives through the game of soccer and using our team. Our guys spend a lot of time with each other, but sometimes to grow you must grow with those above you, and those who are younger."
During October, the men's soccer team is hosting youth soccer clubs from around the area to attend its games and learn from its players. These clubs include the Junior Irish, the Michiana Echo, the Elkhart Flames and Lancer Select. Lancer Select visited on Oct. 1 in a game where the Pilots achieved a 2-1 win over Marian. Junior Irish visited on Oct. 12 in a 5-1 demolition of Taylor. Michiana Echo visited on Oct. 15 and witnessed Bethel beat Grace in a 2-1 win. Lastly, the Elkhart Flames will be visiting on Oct. 22 against Huntington.
At each of these games, the parents and players of the youth soccer club that is being hosted are granted free admission to the game. They are also able to escort the Bethel men's soccer team from the locker room to the sideline. This includes walking out with the team for the anthem and lineup announcements. Then, at halftime, there is a scrimmage and contest with prizes for the kids.
"It's an opportunity for growth," Pinto said. "In the first night we saw Lancer Select, and just the feedback, and the pictures, the kids were just electric. It creates inspiration for these kids at a young age to dream of the idea that I can continue to play, continue to progress and grow. It creates a lot of powerful vision for younger kids to attend college and keep them on the right path with discipline."
The hope is that this year's efforts to make Bethel soccer more involved in the community will continue for years to come in various ways. For more information on Bethel men's soccer visit bupilots.com.
Print