---
MISHAWAKA—The Bethel Men's Soccer program has drawn athletes from all around the globe. The 2021-22 roster is drawn from 21 different countries! One of attributes that Bethel really pushes forward is how ethnically diverse their campus is. According to their website around 33% of undergraduate students are from ethnically, and culturally, diverse backgrounds. The same can be said for a majority of the Men's soccer team.
"I think what is unique about college soccer is that it attracts kids from all around the world because kids want to play at a high level and combine education," Men's Soccer Head Coach, Thiago Pinto said. "The US has that system that is very unique. In many different parts of the world, you have to choose a path. You have to either play at a high level or go to college."
The team has players from five different continents, and the question that arises is how does Bethel pull so many people from so many different places? One of the things that Bethel prides itself on is how much interaction happens between both the staff and the community that surrounds the campus. For athletes, the main pull is how successful so many of Bethel's athletic programs are. The school boasts 43 national championships among all its athletic teams. The Bethel Men's Soccer team boasts a national title but has a long history of individuals who have played at an extremely high level for the program.
"I think the main thing that draws people to Bethel are our staff, our history, and the people that make up Bethel University," Pinto said. "We always tell our players, and our recruits, that it is so much more than a game. Every pregame and practice we talk about our vision and purpose. The winning is a byproduct of being the best version of ourselves, and who we were created to be."
One of the main challenges that arises when talking about a diverse group of people is communication. Obviously being in the United States, our primary language is English, but the differences go much deeper than language. Many different cultures are very drastically different from what we consider normal. This leads to a number of challenges that the coaching staff has had to learn to tackle. These include talking with their players, showing honor to the different cultures that are represented on the team, and making sure that the players feel comfortable in a new environment.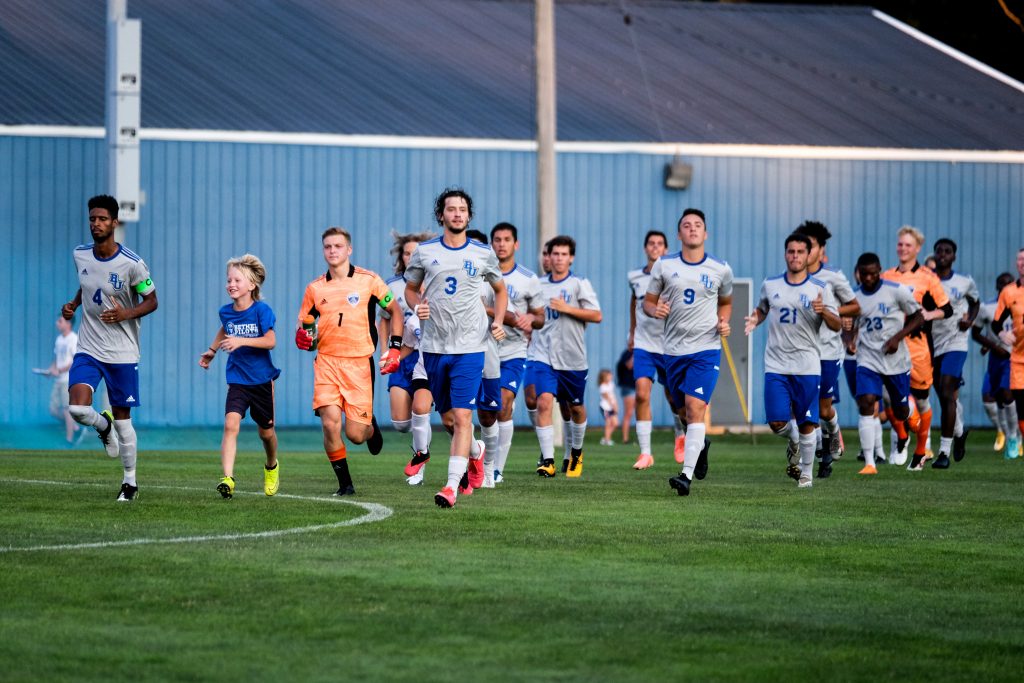 "Normally language is the first question you think of when it comes to being able to communicate," Pinto said. "However, when it comes to soccer, the language becomes secondary because the game and the way we play becomes the way we communicate with one another. The benefit of being a part of an educational institution is that they have to attend English classes. Although it is still a challenge, I think one benefit that we have is that our staff is very diverse. We have a coach from Zimbabwe, Brazil, and also some local coaches. It might seem to be a greater challenge, but when we are so intentional with our purpose it becomes easier."
As for the current season, the Men's Soccer team is off to a <record> start. This included a trip to Lakeland, Florida to allow for the team to both bond as a team and be representatives of the University. In the past the soccer team has traveled to a variety of different places including Iowa and San Diego in the recent past.
"I'm a huge believer in giving these guys an experience that forces [them] out of their comfort zone," Pinto said. "Over the years, we've done lots of trips that allow for the players to do different things that they wouldn't do otherwise. This has included working with refugees in Chicago, and the last one we've done pre-pandemic was in Indonesia. This time in Florida, we stayed in a large house, rather than a hotel, to create a community within the team."
The next time the Bethel Men's Soccer team will take the field is on September 8th against Trinity International at 7 p.m. at Morey Field. For more information about the Men's Soccer team visit https://www.bupilots.com/sport/mens-soccer.
Print